Rising Construction Costs in NH & US! due to multiple factors. As the Covid pandemic took a massive hit on the US economy last spring, sawmills shut down production due to health concerns and an expected housing slump. The safety concerns were present, however, the housing slump, well it never happened. Now there is a red-hot housing market fueled by the lack of lumber supply.
This lumber shortage is causing a massive backlog in new construction during a time when the US is in dire need of new homes. But it's not only causing new construction problems it's also causing delays with home renovations. If you're lucky enough to find wood, contractors, as well as consumers, are seeing eye-opening, mouth-dropping prices!
Random-length lumber futures hit an all-time high of $1,615 on May 4th, 2021, a sevenfold gain from the low in early April 2020. This is a big problem as lumber is the most demanded product when it comes to new construction.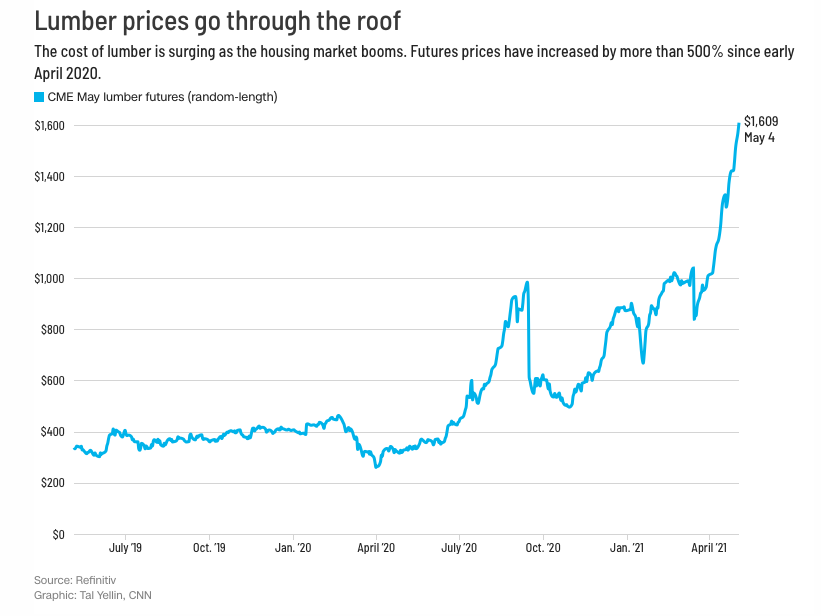 How long can these costs last?
Due to the low supply of lumber, decreasing new construction and high demand especially in urban areas is pushing home prices higher and higher. Increasing lumber prices, coupled with high demand have resulted in the average single-family home price being $35,872 higher, according to an analysis conducted by the National Association of Home Builders.
Lumber, the new copper during construction?
Lumber has become so valuable that many contractors are showing up on-site to uncover building materials have vanished off the job site. Back in 2013 we saw this happening at a lot of construction sites with Copper, now in 2021 we are seeing it with lumber.
An aide to the industry?
With the rapid recovery of the economy that most would never have expected, many industries are facing supply chain issues from a shortage of workers. Many are calling on Joe Biden to help relieve some of the pressure of rising construction costs in NH & the US, by placing a temporary halt on the 9% tariff on Canadian Lumber.